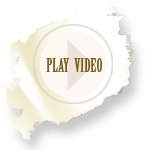 ---
---
---
---
---
---
---
Bula
It seems like only yesterday when we purchased the resort and not long thereafter reported to our friends in the travel industry details of the completion of our first major renovation and building project. That was almost ten years ago, and here we are yet again reporting to you the completion of what is now our fourth major upgrade and renovation in ten years! We are now truly ready to celebrate our upcoming ten year anniversary with newly refurbished Beachfront and Ocean View Bures and Honeymoon Villa. Qamea has never looked better! We are also proud to announce that Qamea is a finalist in the category of Best Spa Resort in Fiji at the upcoming World Travel Awards in Singapore later this month, and in September Qamea was distinguished by Mrs Smith/CNBC Network as one of the Top Ten Happening Beach Breaks in the World.
We are doing everything we possibly can to make sure our guests and your clients have the most amazing Fijian experience at Qamea, while at the same time holding the line on inflation by not increasing our nightly rates next year.
Come visit us at Qamea Resort & Spa!

Vinaka Vakalevu,
Bryce & Ron
Owners

CELEBRATE CHRISTMAS AT QAMEA!
Ho Ho Ho!! I'm dreaming of a white (sand) Christmas!!! C
elebrate the festive season in our amazing tropical island setting. Let us take the hard work out of Christmas for you while you relax and sip tropical drinks on the beach in the sun! All of the Qamea elves will be there and Santa will make an appearance (although he may be wearing beach shorts!)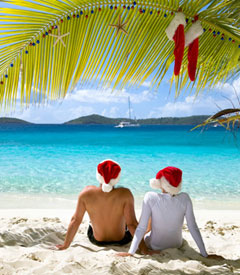 LET'S GO SURFING NOW

everybody's

learning how!
The final countdown has begun for the launch of surfing at the resort! Do you know what a keg, a kook, a pearl, a rhino chaser or getting shacked is? Whether you do or you don't then Qamea Resort & Spa from November 1st 2012 – 30th April 2013 is the place to be! Qamea is the ONLY luxury resort in Fiji's North to offer surfing. Whether you are a long board gremmie or short board aficionado we have the waves, gear and instructor ready to go. From the most basic learner to the serious surfer -we have it covered. Our Australian partner, Tropicsurf, offers an expert guide located onsite at our specially built, beachfront surf shack.
S
pecial offer-Guests receive a 10% discount on Ticket to Ride when booking 7 nights at Qamea.
Introducing Adam Webster
Professional Surf Instructor and Guide
We are pleased to introduce to you the newest member on our team, Adam Webster. Adam has had a wealth of experience surfing all over the world for the past 15 years. Adam's surfing knowledge ensures that Qamea guests -of all abilities- receive intuitive and impeccable service with a great dose of humour thrown in.
Adam will be onsite at Qamea from 1st November 2012 onwards.
David Crutchley Joins Qamea
as Dive Manager
David joined our dive team in September, following a two year stint as a dive instructor in the Mamanuca and Yasawa Islands, Fiji. Originally from the UK, David has a keen interest in underwater photography, and is already offering underwater photography lessons to our guests. Sam leads our dive time, including Sam (dive instructor), and Eric (junior dive instructor), all pictured below. Dive for Free at Qamea - check out our Six Nights in Paradise Package!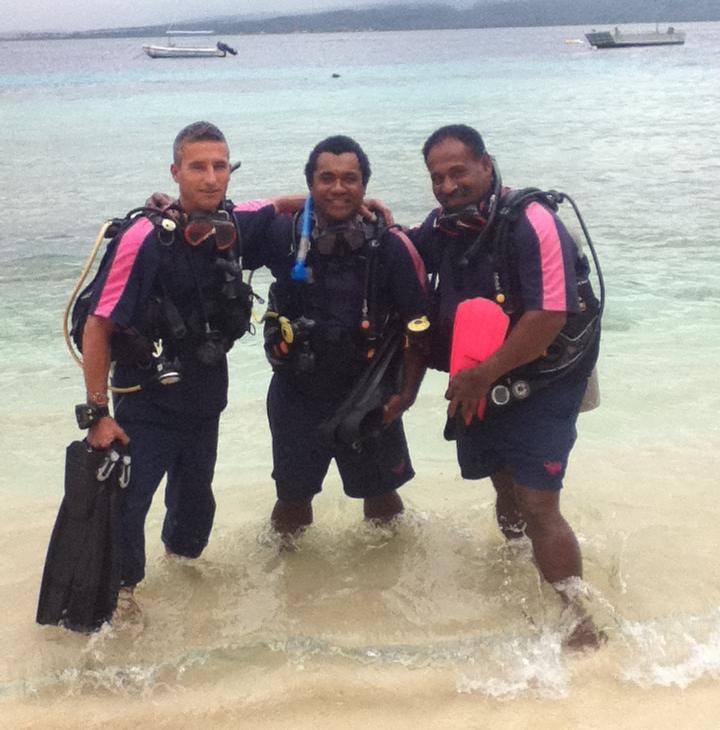 FREE WINE & BEER
(Hurry offer expires 31st March 2013 &
will NOT be repeated!)
Our incredible offer "Let Qamea Pick Up Your Bar Tab" is coming to an end. It's a great add on for you to take advantage of during your stay with us. We offer quality and award winning New Zealand wines and draft Fijian Gold and Fijian Bitter beer. Not to be missed!

HOT STAY / PAY OFFERS!
From USD$1562.50++ pp for 7 nights
Based on twin share occupancy-staying 7/5 in Ocean View Bure, includes all meals and selected beverages (
conditions apply)+ taxes and transfers.

Stay 10 nights- Pay only 8 nights


Stay 7 nights -Pay only 5 nights

Stay 5 nights- Pay only 4 nights

Valid in ALL accommodation categories for bookings and travel up until 31st March 2013- Includes Christmas and NYE!!
Offered on pp double/ twin occupancy basis only
Subject to availability at time of booking
Offer not valid with any other special

FREE!!
*BEACH WEDDING *DIVING*ACTIVITIES* *OR JUNGLE SPA TREATMENTS*
with our incredible "Six romantic nights in Paradise package -
you choose your own bonus!
For US$1,750++ per person double/twin occupancy including six nights in a beautiful Deluxe Beachfront Bure with all meals (++ taxes and transfers)
PLUS,-choose one of the FREE value add on packages:

MEET THE TEAM!
QAMEA STAFF SNAPSHOTS
Ravi


For those of you who have stayed with us at Qamea in the past you may already know Ravi from our Resort's front office. Ravi is a born and bred Fijian who worked up until Jan 2011 at the resort as our Accounts Manager when he left Fiji to complete his postgraduate university degree in accou
nting in New Zealand. We were lucky enough to lure Ravi back after he completed his studies. He now works from our New Zealand Reservation and Marketing office as our Accountant and Reservation Manager. Chances are if you call or make a reservation, Ravi will be the person you deal with. Ravi is very helpful, has great local knowledge of Qamea and Fiji and he likes a good joke too.
M
ake sure you introduce
yourself to him and say "Bula!"